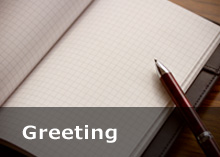 Message from President
Message from President

HITEC CO.LTD., develops, manufactures, sells and supports sausage and ham stuffing systems. Hitec has created original machines based on extensive research and advanced technology. In this field, we hold the No.1 market share in Japan. Hitec is expanding steadily into world markets. Hitec has offices located in Japan (Head Office, Factory),Asia and U.S.A. Hitec is able to maintain steady growth due to the excellent quality and reliability of our machines. Hitec stands behind all of its products with many support functions.
Hitec is always reviewing industries trends and incorporating them into new and improved machines. Hitec develops and manufactures machines with the belief that machines always improve the way people live and work. We aim at making machines that offer a large contribution to the meat/sausage industry. Hitec is always reviewing and improving quality control and testing procedures on the factory floor. This attitude has made our machines superior in this industry.
Hitec provides growth opportunities for each of its employees. Hitec's employees maintain a high degree of loyalty and moral. All of Hitec's employees work towards common goals for the company's success. Hitec encourages its staff to acquire the latest technology and a keen international awareness. Also, Hitec invests in the many research and development projects. Hitec is focusing on our established reliability and achievements that will broaden and develop our business arena with the energy and creativity to pave the way for the next century.